Company Profile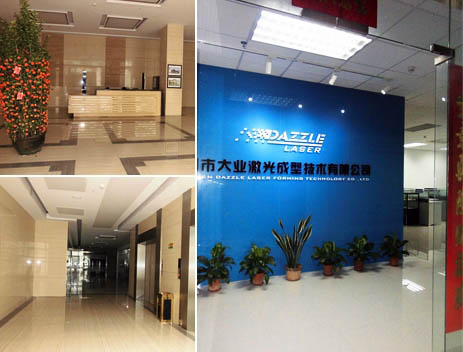 Dazzle Laser Forming Technology CO., LTD(Dazzle 3D ), was founded in Shenzhen in 2012 after a long and strong experience in 3D prototyping. Dazz 3D is a comprehensive 3D printing solutions supplier, including Stereolithography (SLA) , Digital Light Procession(DLP), Mask Stereolithography( MSLA or LCD),Selective Laser Sintering (SLS), Selective laser melting(SLM), MultiJet Printing(MJP) etc.
Dazz 3D specializes in innovation and invests heavily in the R&D, manufacture of equipment, resins, and rapid prototyping processing services. Suzhou subsidiary company was founded in 2013, Beijing subsidiary was founded in 2014, and Xi'an branch office set up in 2015. The S130 was launch in 2015, which is the world's first real-time display of the printing progress of the desktop SLA 3D printer. We released our DLP 3D Printer in 2017, and LCD 3D Printer in 2018.
Dazz 3D is continuously providing 3D printing solutions for industries such as automotive, aerospace, industrial design, manufacturing, medical, architecture, art, education, Jewelry, Dental, etc. We believes that close partnerships with so many industries will help us to develop more innovative solutions. We will provide better innovative products, including 3D printers, print materials, on-demand parts services and bring the 3D printing industry to a new level.